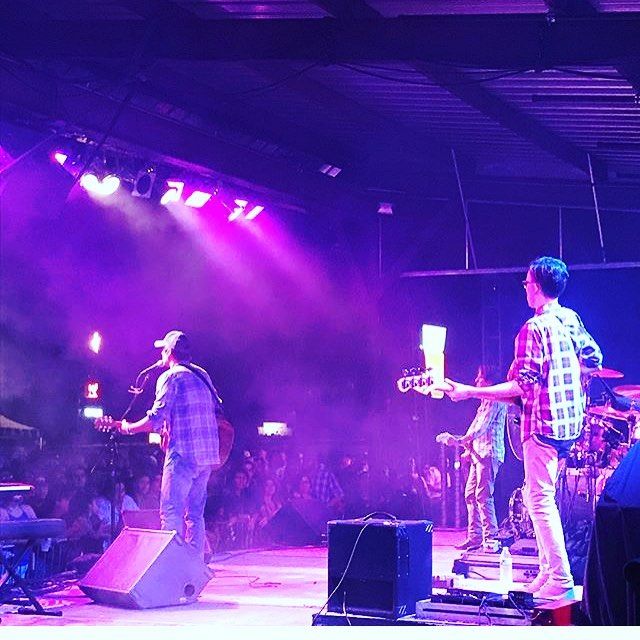 New Wildcatters
Austin based band, New Wildcatters, will release their debut album in the fall of 2020. The album Junebug Parade is a return to roots story about front man and songwriter, Jeff Whitehead, and his upbringing in eastern Texas. Born and raised in College Station, Whitehead, always the wild spirit, felt the pull of adventure and travel. As a kid, he would often ride his bike on the winding back roads just to see where they led, eventually stopping in at fillings stations in neighboring towns to call his Mom, who had told him not to get on the highways, to come pick him up. During these wanderings, he'd ride to the Navasota River, fishing pole tied to his bike, and spend his days fishing for catfish and dreaming about where the river went after it disappeared around the bend. These times alone at the river, Whitehead would make up songs to entertain himself, singing them to no one but the surrounding oak trees in the dense river bottom. 
Now living in Austin, Texas, Whitehead felt the pull of home. With thoughts about his experiences growing up in Brazos Country and had a homesick feeling he couldn't shake, he decided to head back home to see his folks in College Station. He spent time traipsing around his old haunts in Brazos County, hitting the old bars, and walking the Navasota and Brazos river bottom. Seeing these places through fresh eyes, Whitehead felt inspired and song lines started filling his mind. Whitehead returned to Austin with new perspective and shortly thereafter was introduced to songwriter and Band of Heathens front man, Gordy Quist. They met for a writing session and soon discovered they had grown up within an hour of each other- Whitehead from College Station, Quist from north Houston. Immediately, this sense of place started to seep into their songwriting- from the bottomland of the Brazos River, to the East Texas pines, to the streets of Houston. Says Whitehead, "they say, write what you know, so we wrote about humidity." The first session finished "Long Lost Son". More would follow. After a year of writing, the two went into The Finishing School, an Austin recording studio with Quist taking the lead as producer. 
Reflecting on how the New Wildcatters got their name, Whitehead confided it came from stories he'd heard over the years told about his Great Grandfather-
"My Great Grandfather on my mother's side grew up in San Francisco. His father was a ship captain, running cargo up Alaska and back. They say they had a big house on a hill where you could see the ships coming in to the bay. Around the age of fourteen, my Great Grandfather decided it was time to go and ran away from home. He started traveling, hitchhiking, and ended up in Montana. There, he fell in with a traveling circus. He was hired on as a sign painter and I'm sure every other job no one wanted to do. It was here he met a girl that was working at the circus selling tickets. They would later be married. Eventually the circus wound up in Texas and the two decided to settle down. 
My Great Grandfather did odd jobs and kept painting signs. Around this time, there was a big oil boom going on in East Texas. He somehow was able to get a line of credit to drill some wells. How and why he was able to get this kind of money is unclear. But he did, and they ended up drilling a well outside of Kilgore that hit big. He was part of breed of men know as wildcatters. Wildcatters were dreamers that drilled oil wells hoping to find that great fortune underneath. The losses far outnumbered the wins. It was largely a crapshoot. So it took gamblers, men who could stomach the risk. Equal parts brains and the urge to roll the dice. He would eventually lose most of his money on bad investments and dry wells. He was a character to say the least. At one point he traded a Buick for a two carat diamond ring. He didn't give it to my great grandmother. No, he wore it as a pinky ring. Two carats in Lampasas County. That's pretty tall cotton in that part of the world. My Granny likes to say she sees a little bit of him in me. I don't know how to take that. But maybe it's true. 
I had this story in mind when naming the new band. As songwriters and musicians, we write songs hoping to tap into that great, deep well, hoping to strike it big with a song that makes people stop and listen. We hit the road, throwing caution to the wind, forgetting the losses, remembering the wins, digging deeper to find that something that taps into people's hearts. And just like those Texans that came before us, willing to risk it all, we're a new breed of wildcatter in these modern days. And just like my Great Grandfather, you can find me down here in Texas, rolling the dice with the New Wildcatters."
From the opening lines of Long Lost Son, "Forgive me, I lost my way, I wandered far and wide, I come back to the post oak trees and tangled mustang vines"- it's clear this is a coming home moment. From the foot stomping "Heaven Help Me" to the downhome front porch groove of Junebug Parade, the album holds the listeners attention from start to finish. The sound, awash with pedal steel, is unmistakably southern with a strong tip of the hat to Texas roots. With the feel of an instant classic Texas/Red Dirt record, the New Wildcatters are fast off the start with this debut album and show no signs of slowing.